Drop the Pre-Workout Carbs: More Evidence
W
hen using Carb Backloading™, many realize for the first time how their previous pre-workout nutrition decreases performance and actually slows the results of training. These real-world results and the science behind them, however, don't deter the old-school experts and supplement companies from recommending a pre-workout formulation full of carbs. For some, it's a matter of money; others, a matter a habit.
Science is not on their side. If anyone would bother to check a few biological facts on how training affects hormonal balance and how those effects dictate glycogen and fatty acid utilization, we could end the discussion there. But even more reasons beyond the obvious may exist for skipping that carb-laden pre-workout shake.
A recent study by Bartlett, et al (2013) explored p53-gene activation in relation to mitochondrial biogenesis in muscle. Mitochondrial biogenesis is the generation or growth of new mitochondria, the power house of a cell. Mitochondria control much of the metabolic activity in a cell and play a protective role in the cell's health and survival as well as energy production. As we've discussed on podcasts, one way to spark mitochondrial biogenesis is to limit dietary carbohydrate availability (Philp et al, 2012). Scientists currently believe this is the result of p53, which is thought of as a tumor suppressor gene sensitive to carbohydrate levels (Saleem et al, 2011).
To test how training might modulate or enhance this effect, researchers used a reduced carbohydrate state to activate p53 and thereby potentially increase mitochondrial biogenesis in muscles during high intensity exercise. They took muscle biopsies from 8 active males before and after high-intensity interval running in either a high- or low-carbohydrate state. In the low condition, subjects consumed a low-carb diet the day before high intensity training. These subjects also performed glycogen-depleting exercise the night before the intervention and restricted carb intake before, during, and after undertaking the study protocol.
We should always examine what the researchers mean by "low-carb" by looking at the amount of carbs the subjects were consuming. In the 24 hour period before the high intensity exercise, subjects consuming a low-carb diet ate 3g/kg which on average equated to 242g of carbs, 37g of fat and 94g of protein. The low-carb participants did go through an intense glycogen depleting exercise session the night before the test exercise.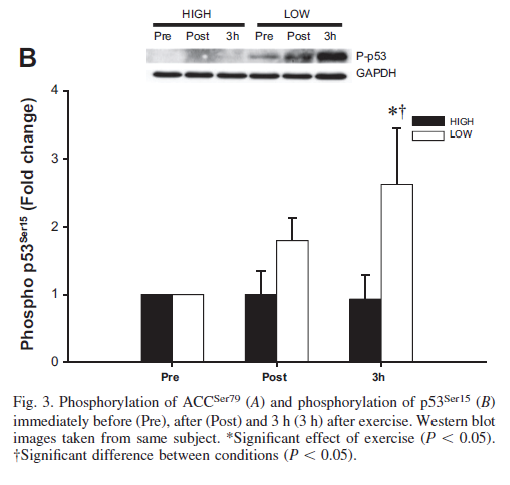 ---
In the high-carb condition, subjects reported to the lab the morning of the main trial after eating a high-carb diet the day before, a high-carb breakfast on the morning of testing and ingested carbs immediately before, during, and after exercising. This diet consisted of 8 g/kg of carbohydrate the day prior and average intake was a whopping 647g of carbs, 54g fat and 133g of protein. On top of that, the high-carb breakfast the subjects ate 2 hours before the testing was quite heavy at 2 g/kg (166g carbohydrate, 15g fat and 24g protein). The subjects also consumed 8 ml/kg (average = 39.5 g carbohydrate) 10 minutes before the exercise session as well as 3 ml/kg (average= 14.5g of CHO) during active recovery periods.
Participants in the high-carb intervention had over four times the amount of intramuscular glycogen, which isn't surprising given the protocols. However, p53 was significantly higher in the low-carb intervention both immediately and 3 hours post exercise (0.9 ± 0.4 for high VS 2.6 ± 0.8 for low). In regards to markers of muscle and gene signaling, before and 3 hours post exercise, mRNA content of pyruvate dehydrogenase kinase 4, mitochondrial transcription factor A, cytochrome-c oxidase IV, and PGC-1α were greater in low carbohydrate intervention compared with high carbohydrate intervention.
The authors concluded that training in the low-carb state increased p53 phosphorylation (we won't go into details here today but this may be related to upstream signaling through AMPK). Since p53 is a potent regulator of mitochondrial biogenesis, a reduced carb state may benefit not only athletes but also metabolically deranged populations as well. Mitochondria and consequently, mitochondrial density, have important health implications that relate to the pathology of cancer, aging, and insulin resistance (Vousden et al, 2007).
Again, we have one more reason to avoid pre-workout carbs and train in a somewhat carb-depleted state. This is certainly a contributing factor to the gains in performance reported by Carb Backloading™ users and probably relates to the positive changes noted by Dr. Rocky Patel in health markers for those who follow CBL.
How many times can we say it: skip the pre-workout shake.
References (click the reference to access the resource):
Bartlett, J. D., Louhelainen, J., Iqbal, Z., Cochran, A. J., Gibala, M. J., Gregson, W., … & Morton, J. P. (2013). Reduced carbohydrate availability enhances exercise-induced p53 signaling in human skeletal muscle: implications for mitochondrial biogenesis. American Journal of Physiology-Regulatory, Integrative and Comparative Physiology, 304(6), R450-R458.
Philip, A., Hargreaves, M., & Baar, K. (2012). More than a store: regulatory roles for glycogen in skeletal muscle adaptation to exercise. American Journal of Physiology-Endocrinology And Metabolism, 302(11), E1343-E1351.
Saleem, A., Carter, H. N., Iqbal, S., & Hood, D. A. (2011). Role of p53 within the regulatory network controlling muscle mitochondrial biogenesis. Exercise and sport sciences reviews, 39(4), 199-205.
Vousden, K. H., & Lane, D. P. (2007). p53 in health and disease. Nature reviews Molecular cell biology, 8(4), 275-283.